Back to full discography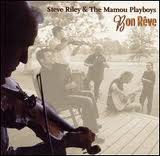 Bon Rêve – 2003
Rounder Records
1. Maline
2. Bon Rêve (Sweet Dream)
3. Jamais une Autre Chance (Never Another)
4. Paradis des Musiciens
5. La Vie Je Croyais Je Voulais
6. Vini, Jilie
7. Blues de Prison (Prison Blues)
8. McGee Medley
9. Aussi Toute Seule Que Moi
10. Coco d'Oeil Dans le Fond du Puit
11. Evangeline Waltz Two-Step
12. T' As Fini de Me Voir
13. Dernière Valse (Last Waltz)
14. Oh, Mam (Oh, Mom)
15. OST Special
16. La Valse du Malchanceux (Unlucky Waltz)
17. La Chanson de Savoy (Savoy Song)
---
At a time when young Cajun musicians are experimenting with all kinds of exciting hybrids, from funk to hip-hop, Steve Riley & the Mamou Playboys have taken a more preservationist approach, mixing in carefully written originals with tunes drawn from the rich musical tradition of southwest Louisiana, updating things just enough to keep them vital and fresh. Singing only in French, their albums are part dance party and part history lesson.
---
Here's what Dr. Barry Ancelet, professor of folklore at the University of Louisiana at Lafayette, has to say about Bon Rêve:
"It's the Sgt. Pepper's of Cajun music. It's so strong in so many areas: performance/musicianship, the poetry, the conception, the whole album working together as a sort of a thematic unit. It's an incredible effort. What's really remarkable is that they're sort of competing with themselves. They're competing with their own last effort, and that's got to be hard to do. And yet they keep pulling it off."
"They actually do what those old masters were doing. They improvise and create within the tradition, finding poetry in historical manuscripts and in the language of real life, and they manage to do this in a way that both innovates and preserves at the same time. Balfa challenged us all to 'preserve the very life of the tradition,' cautioning that we not try to preserve artifacts, but rather the process that produces the music and its makers. Steve Riley and the Mamou Playboys answer that challenge with this stunning combination of brand new old songs and venerable new songs, all driven by breathtaking musicianship and deeply thoughtful creativity."
In the down home dance hall the two-step and the waltz rule the night. On festival and concert stages the Mamou Playboys are more free to satisfy their hunger for variety and delve into diverse facets of Cajun melody and lyric. The swagger of the two-step can be balanced with some of the more delicate sounds intended for the hearth or the fields. All the ingredients of Cajun music are bathed in the concert spotlight- ancient ballads, twin fiddle tunes, zydeco, swamp-pop, rich harmonies, venerable new songs, and brand new old songs in a seamless blend of preservation, discovery and invention- and it can all be enjoyed without checking your sense of pitch at the door.
All these flavors included in one Steve Riley and the Mamou Playboys concert silence the skeptics who think it "all sounds the same." This band is from Louisiana's Gulf Coast, south of the American south, and it is brimful of sounds as compelling, diverse and exotic as one evening of music can possibly hold.