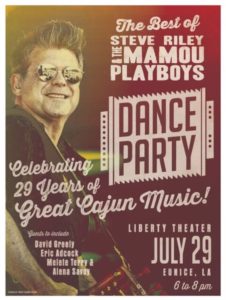 Join us Saturday, July 29th 2017 at the Liberty Theater in Eunice LA for a Cajun dance party/concert from one of Cajun music's most celebrated groups!
Musical guests to include David Greely, Peter Schwarz, Eric Adcock & singers Melete Terry & Alena Savoy!
We'll take you on a musical journey from the first record through the last!
Advance Tickets $15 Reserved Seating 337-212-6457 and 337-789-1538, or general admission in person at the Mayors office after July 10th.