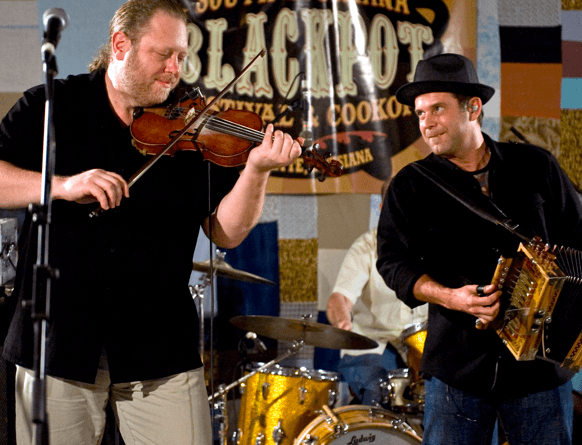 As many of you know, David Greely is leaving the Mamou Playboys effective the day after Mardi Gras, because his audiologist has informed him he needs to steer clear of dancehall sound levels.  David and Steve started the Mamou Playboys 23 years ago and have made some great music and had some amazing times in those years together!  Although he will no longer be in the band, I/we look forward to our continued friendship and collaboration.
After giving David's departure the full respect it deserves and contemplating our future without him, we needed to get down to the business of moving forward.  That meant deciding on his replacement.  There was one person at the top of our list from the very beginning.  With that being said, we are honored and very happy to welcome Kevin Wimmer to The Mamou Playboys!
Kevin is one of the finest fiddlers around.  Period.  He has been part of our extended musical family for years.  Steve and Kevin met 26 years ago on Steve's 1st trip out of LA with Dewey Balfa to Davis and Elkins College in Elkins West VA.  Kevin was one of Dewey's best students and he and Steve quickly became friends.  It wasn't long before he was in LA staying with Dewey and hanging out playing music anytime and anywhere he could.   He even played on the Playboys' "Live" cd recorded in Eunice in the mid-90's.  By that time he was living in LA where he's been ever since.
Kevin is originally from New York City and comes from a great musical family.  He began his musical training at age four with his Mother, a respected violinist who is on the Juilliard School of Music faculty.  Ever since meeting Dewey Balfa 26 years ago, Cajun fiddle has been the focus of his career, though he also enjoys playing jazz, Western swing, and old-time.
Kevin has toured four continents and countless cities with Balfa Toujours, the Red Stick Ramblers, Racines, Ray Abshire, Ann Savoy and her Sleepless Nights, Danny Poullard and the California Cajun Orchestra, Preston Frank and the Frank Family Band, and more.  He's also an in-demand studio session musician and he teaches regularly at music camps here and throughout the US.
We are looking forward to getting' down, mixin' it up, and starting the next Playboy chapter!  Hope to see you all in south LA or somewhere out there on the road!  This year will find us very busy touring in support of "Grand Isle", so come out and see us where you can!  We are very thankful for your love and support throughout the years!  Le voyage continue!
Steve Riley & the Mamou Playboys